*for english version please scroll down
22.03.2012 – 15.04.2012
Form from Function
Christian Henkel, Janine Eggert, Philipp Ricklefs, Sibylle Jazra
kuratiert von Christopher Sage
Der Anfangspunkt hinter diesem kuratorischem Projekt war es, die auffällige Kontur des Gebäudes der REH Kunst in Betracht zu ziehen. Die gewölbte Form der Architektur ermöglicht es der Halle, sich zu erweitern oder zu verkleinern, ganz nach dem Standort und der benötigten Nutzung entsprechend.
Dieser Design-Ansatz ist eine unübliche Anwendung des Design-Leitsatz des 20. Jahrhunderts Form follows function (zu deutsch Form folgt der Funktion). Die Form des Gebäudes ist das Ergebnis seiner vielseitigen Fähigkeit und nicht einer von der Architektur festgelegten Nutzung, welches es vielleicht mehr mit Möbeln, wie etwa den Satztischen, ähnlich erscheinen lässt.
Der Titel der Ausstellung Form from Function ist eine Verfälschung des Designs- Konzeptes des 20. Jahrhunderts 'form follows function'. Der Titel unterstreicht dabei die Architektur und den Wandel in der Nutzung von Artefakten, welche in diesem enthalten sind. Form from Funktion zeigt Skulpturen von vier Künstlern, die alltäglich funktionales Mobiliar oder Haushaltsgeräte benutzen oder zerlegen, um neue Formen, für die eigene Interpretation, zu bauen. Jedes der ausgewählten Werke unterscheidet sich stark voneinander, ohne einen gemeinsamen konzeptuellen oder formalen Ansatz zu haben.
Die ausgewählten Kunstwerke verbergen nicht die vorherige funktionale Identität ihrer einzelnen Teile. Die "Ehrlichkeit zu Materialien" spielt mit dem Gedankengang des Betrachters auf die vorherigen Objekte, mit der Intention des Künstlers innerhalb der neuen Form.
Sibylle Jazra erarbeitet malerisch und objekthaft poetische Landschaften mittels symbolischer Artefakte und Zeichen, die durch ironische, narrative Anmerkungen, absurde Befehle an den Betrachter erteilt. In ihrer Skulptur Untitled. Wald stehen zwei Schilder, sich gegenseitig spiegelnd gegenüber, in polarer Opposition zu einem Wald aus Bäumen. Die Schilder "Ja" und "Nein" beantworten auf widersprüchliche Weise eine Frage, welche unausgesprochen bleibt, oder sitzt man selber zwischen den Fronten?
Christian Henkel's Skulptur Singer erscheint noch mehr als Hirngespinst, ein zwischen zum Dekor verdammtes Trash-Designobjekt und Figur. Seine Mimicry-Serie von Tassen ist ein ironischer Versuch; halb erfolgt, halb gelungen, halb versagt. Allerdings kann etwas poetische und schönes aus der Unvollkommenheit und Fehlern hervorgehen. "In der Natur ist die Nachäffung eine evolutionäre Strategie der Lebewesen um etwas vorzugeben was sie nicht sind, welches unaussprechlich eine Reflektion der gegenwärtigen Gesellschaft und der zeitgenössischen Kunst darstellt."
Im Kontrast zu Henkels behandelten Massenproduktions-Plastiktassen, benutzen Janine Eggert & Phillip Ricklefs einfache Plastikgabeln als modularen Gebäudeblock. 'Wir konzipieren unsere Skulpturen aus einer Modul-Konstruktion, bei der geometrische Körper aus sich wiederholenden Bauteilen zusammengesetzt werden. Die Plastikgabel ist ein optimiertes Industrieprodukt, das in Kombination mit dem Kaugummi-Knotenpunkt für das Modul erzeugt wird. Wir arbeiten alltägliche Gegenstände neu auf und wandeln ihre Funktion: Aus den Zinken werden Verbindungsstecker und das Kaugummi wird zur Universalkupplung. Die Diner Studies stehen als Exempel für einer unverfänglich leidenschaftlichen Umgang mit Geometrie.'
Der Künstler und Kurator Christopher Sage möchte die Arbeiten in einer Art und Weise eines Ausstellungsraumes präsentieren und dabei das Spiel zwischen Möbeln und Skulpturen in Erwägung ziehen. Die Sockel auf denen die Arbeiten sitzen, spiegeln die Architektur der Halle wieder und können dabei wie Russische Puppen eine in die andere gesteckt werden, für Lagerungs- oder Transportabsichten.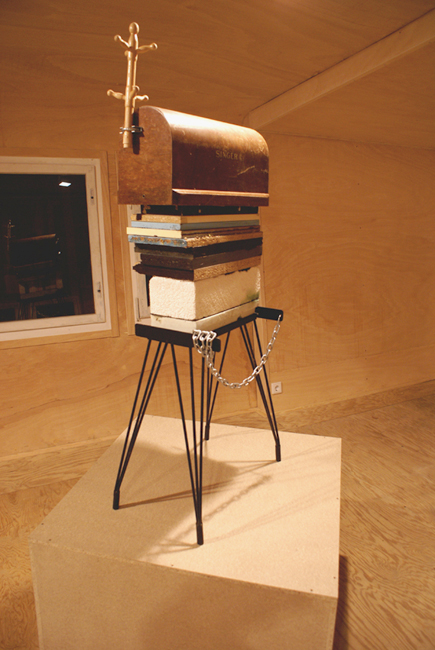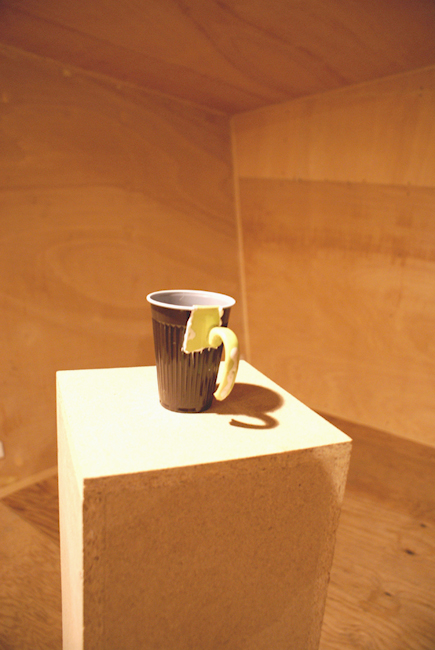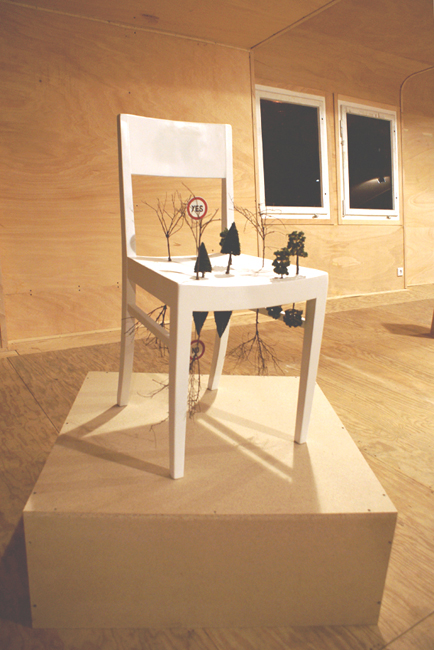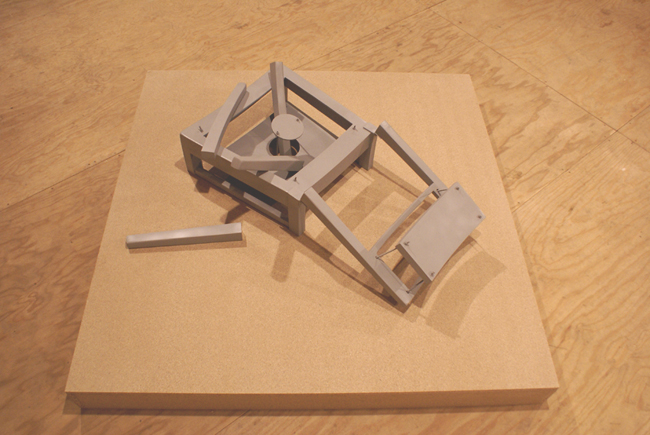 22.03.2012 – 15.04.2012
Form from Function
Christian Henkel, Janine Eggert, Philipp Ricklefs, Sibylle Jazra
curated by Christopher Sage
The starting point behind the curatorial project was to consider the remarkably shaped building that REH Kunst inhabits. The curved form of the architecture permits the hall to be able to expand or contact, dependent on location and its required use.
This design approach is an unusual application of the 20th century design ethos 'form follows function'. The buildings form is a result of its versatile ability, and not by one defined architectural use, making it perhaps more akin with furniture such as nestling tables.
The exhibition title Form from Function is a corruption of the 20th century design concept of 'form follows function'. And highlights the architecture and the change in use of the artifacts contained there in. Form from Function showcases sculptures by artists who have utilized or dissected functional everyday furniture or domestic utensils, to construct new forms for reflection. Each of the works selected differ greatly, with no common conceptual or formal approach.
The selected art works do not conceal the former functional identity of their parts. This 'honesty to materials' plays with the viewers associations of the former object with the artist's intent within the new form 
Sibylle Jazra develops picturesque and object –like poetic sceneries by using symbolic artifacts and icons, which form absurd orders to the recipient. In her sculpture Untitled, Wald (forest), two signs sit mirroring one another in polar opposition amidst a forest of trees. The signs 'Yes' and 'No' paradoxically answer a question that remains aloof, or perhaps it is oneself sitting on the fence? Jazra's play with signs and signifiers creates a complex maze of deference.
Christian Henkel's sculpture Singer appears complete or whole, however it's Chimera construction suspends the work, between condemned décor, trash-design object and figure. His Mimikry series of cups are an ironic attempt, half done, half good, half failed. However something poetic and beautiful can arise from imperfection and failure. 'In nature, mimicry is an evolutionary strategy for creatures to pretend something that they are not, which becomes ineffably a reflection on society and art nowadays.'
In contrast to Henkel's doctoring of mass-produced plastic cups, Janine Eggert & Philipp Ricklefs utilize the humble plastic folk as a modular building block. 'We conceive our sculptures in a construction of models that are assembled out of geometric shapes in repetitive elements. The plastic fork is an optimized industrial product, which creates the module in combination with the chewing gum node. We reappraise the everyday thing new and convert its function: the tines turn into connectors and the gum acts as the universal coupling. The Dinned Studies stand as an example of a harmless handling of geometry.'
Considering the play between furniture and sculpture, the artist-curator Christopher Sage wanted to present the works in a showroom fashion. The plinths upon which the works sit, mirror the hall's architecture, and like a Russian doll can be fitted one inside the other for storage or transportation purposes.