*for english version please scroll down
11.01.2012 –27.01.2012
Out of the black
Regina de Miguel, Sam Smith, Kim Westerström
kuratiert von Lauren Reid
Lauren Reid freut sich, ihre erste selbstständig kuratierte Ausstellung Out of the black bei REH KUNST präsentieren zu können. Mit der Ausstellung wird auch die REH KUNST, nach ausgiebigen Renovierungen, wieder eröffnet. REH KUNST ist eine Raumerweiterungshalle, die seit Mitte der 60er Jahre in der ehemaligen DDR entwickelt wurde. Sie besteht aus mehreren Segmenten, die sich ausziehen lassen, so dass die Halle von 2 auf 16 Meter Länge ausgezogen werden kann.
In Anlehnung an die expandierende architektonische Form der REH KUNST, bezieht sich die Ausstellung, im metaphorischen Sinne, auf ein Teleskop.
Teleskope sammeln und bündeln Lichtwellen von entfernte Objekte um Vorgänge besser beobachten zu können. Die Vision des Universums hat uns lange mit der Frage beschäftigt was sich jenseits der konkreten und erkennbaren Vorstellung unserer Existenz verbirgt und dies auf die Zukunft der Menschheit projiziert. Umgekehrt  – Auf Grund der Zeit, die das Licht benötigt, bis es unsere Augen erreicht, sehen wir, wenn wir in den Kosmos hinausschauen, in Wirklichkeit die Vergangenheit. Aus diesem Grund fungieren Teleskope als Zugang zu anderen Raum- und Zeitdimensionen, die aber Fragen über die entstehenden Lücke zwischen unserer gelebten Realität, den vorstellbaren Möglichkeiten und derer Darstellungen aufwirft.
Die Ausstellung bringt drei Künstler aus verschiedenen Erdteilen zusammen, welche das Universum betrachten und gleichzeitig die Teleskoplinse drehen, um somit ein tieferes Verständnis seiner Selbst und unserer Position in der Welt zu gewinnen.
Regina de Miguel (Spanien, 1977) Nach einjähriger Forschung wird de Miguel ihre Arbeit Nouvelle Science Vague Fiction präsentieren: Ein Zwei-Kanal-Video, das die Beziehung zwischen wissenschaftlicher Analyse, der Wahrnehmung und dem Bewusstsein untersucht. Das Stück soll den Betrachter zum Nachdenken bringen -  über den Weltuntergang, den Klang eines schwarzen Loches, die Visionen eines verschwindenden und wieder erscheinenden slowenischen Sees, sowie der Wiederherstellung des Raumschiffes "Solaris" aus dem gleichnamigen Film von 1972. De Miguel hat an zahlreichen Ausstellungen teilgenommen, darunter Einzelausstellungen im Bastero Cultural Centre in San Sebastian und in MUSAC, Leon (2008).  Neben einer Reihe von Messen und Biennalen hat sie  2011 an der Art Basel Miami teilgenommen. Ihre Arbeiten sind im Museum of Contemporary Art, der Reina Sofia und anderen bekannten Sammlungen vertreten. aufbewahrt. De Miguel wird durch die Maisterravalbuena Gallery in Madrid und Valle Orti in Valencia repräsentiert.
Sam Smith (Australien, 1980) wird eine neue Arbeit, ein bewegtes Bild, vorstellen, das eine einzelne Haushaltsszene durch zwei Videokanäle widerspiegelt. Es wird mit einer 16mm Filmkamera von 1975 und einer aktuellen Digitalen Kamera gleichzeitig gefilmt. Die synchronisierten Handlungen eines einzelnen Protagonisten überbrücken die technische Zeitleere, die wesentlich für die Medien ist. Smith ist ein Video- und Installationskünstler und lebt in Berlin. In Australien hat er an zahlreichen Ausstellungen teilgenommen sowie auch international ausgestellt wie in 2011 bei 3+1 Arte Contemporanea, Lissabon / Momentum Worldwide, Berlin / Art Gallery of New South Wales, Sydney.
Kim Westerström (Schweden, 1979) wird eine standortspezifische Installation, Window projector and magnifying blinds (2010) zeigen, in der er persönliche gesammelte Objekte verwendet. Westerström vereinigt das tiefe Persönliche mit dem Konzeptionellen, indem er das Gedächtnis, die Zeit und unsere Beziehung zu unserer Umgebung untersucht. Westerström arbeitet mit zeitbasierenden Medien, Installation, Fotografie und Klang. Momentan ist er bei GlogauAIR, in Berlin tätig und hat bei Solo- und Gruppenausstellungen in ganz Europa teilgenommen.
Lauren Reid kommt aus Sydney, Australien, und arbeitet zur Zeit als eigenständige Kuratorin in Berlin. Viele ihrer Erfahrungen konnte sie in in Australien sammeln, wo sie an verschiedenen Projekten mitarbeitete. Auch international war sie tätig, unter anderem bei einer Wanderausstellung im Inneren eines Transporters in Melbourne (Each atom oft hat stone, Mel O'Callaghan, 2010).  Darüber hinaus arbeitete sie für ein Ausstellungsprojekt einer Pop-up Gallery in Hong Kong (The Evo Project, Ben Quilty, 2011). Sie realisierte die Ausstellung Window space (2011) bei Grantpirrie Gallery in Sydney, eine der bekanntesten Galerien in Australien. Zur Zeit ist sie Stipendiatin im Node Centre for Curatorial Studies, wo sie die Ausstellung  Conversations with shadows im Grimmuseum mitkuratier hat.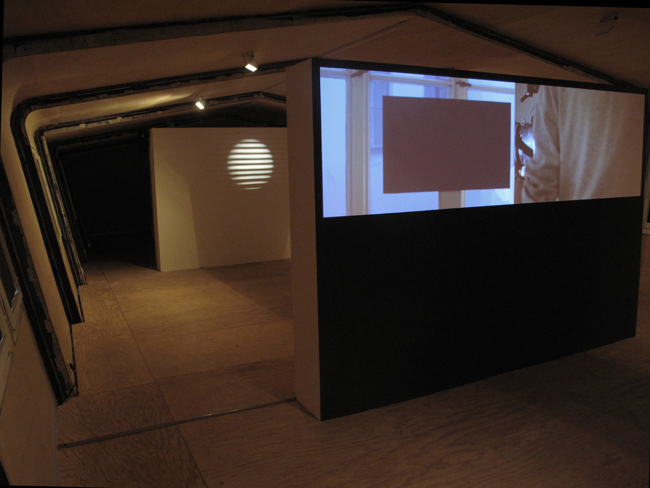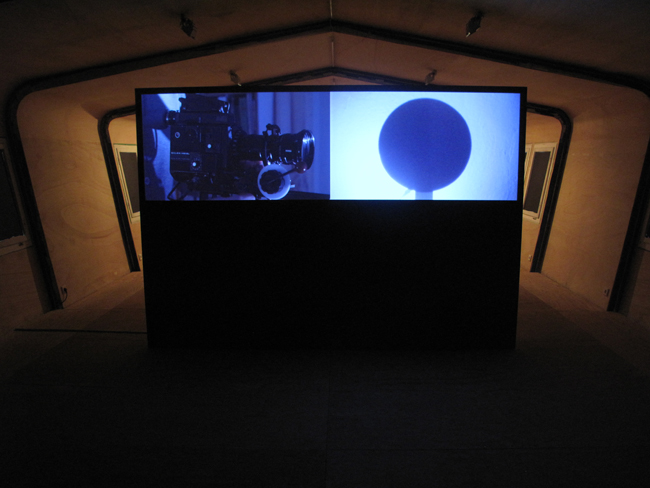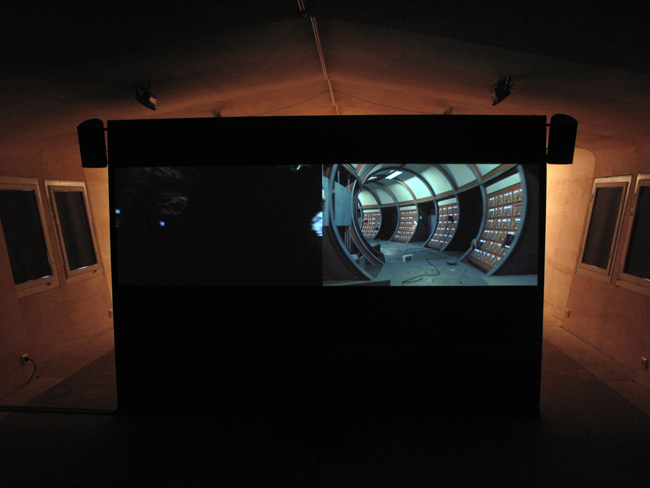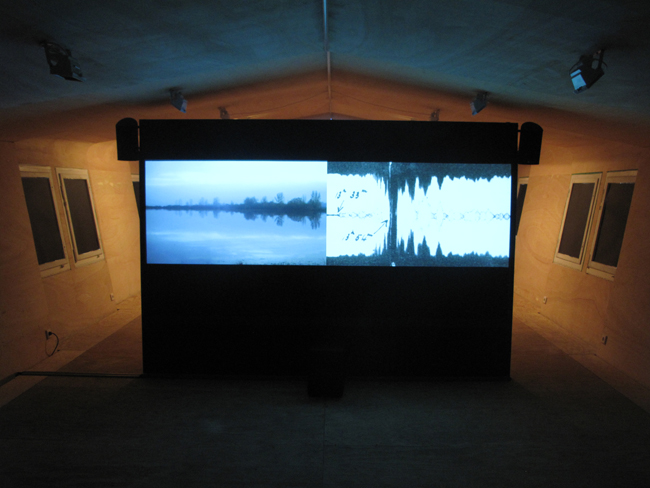 11.01.2012 –27.01.2012
Out of the black
Regina de Miguel, Sam Smith, Kim Westerström
curated by Lauren Reid
Lauren Reid is very pleased to present Out of the black at REH KUNST. This will be her first independently curated exhibition in Berlin and also marks the re-launch of REH KUNST following extensive renovations.REH KUNST is a 'Raumerweiterungshalle', a mobile expandable container, developed in the former DDR dating from the mid-sixties. It is made up of diminishing segments that can be telescoped out to create a space from 2 to 16 metres long.
Echoing the expanding architectural form of REH KUNST, the exhibition within will be imagined as a metaphorical telescope.
Visions of the universe have long caused us to wonder what is beyond our concrete and knowable realm of existence and to project into the future of humankind. Conversely, when we look out into the cosmos, what we are actually seeing is the past, due to the time that it takes for the light of distant stars to reach our eyes. Telescopes act as a lens or a portal to other dimensions of space and time that raise questions about the gap between our lived reality, imagined possibilities and their representation.
This exhibition draws together three artists from different corners of the globe who seek to contemplate the universe while simultaneously turning the lens around to gain a deeper understanding of self and our position in the world.
Regina de Miguel (Spain, 1977) Following 12 months of extensive research, de Miguel will be presenting Nouvelle Science Vague Fiction: a two-channel video that explores the connections between scientific analysis, perception and consciousness. The piece draws together musings on the end of the world, the sound of a black hole, visions of a disappearing and reappearing Slovenian lake, and recreations of the spaceship 'Solaris' from the 1972 film of the same title. De Miguel has exhibited extensively including solo shows at Bastero Cultural Centre, San Sebastián and MUSAC León (2008) as well as a number of fairs and biennials, most recently Art Basel Miami (2011). Her work is held in Museum of Contemporary Art, Reina Sofia and other significant collections. De Miguel is represented by Maisterravalbuena Gallery, Madrid and Valle Orti, Valencia.
Sam Smith (Australia, 1980) will be exhibiting a new moving image work that mirrors a single domestic scene across two video channels. Shot simultaneously on a 16mm film camera from 1975 and a current digital cinema camera, the synchronised actions of a solitary protagonist bridge the technological time void intrinsic to the media. Smith is a video and installation artist currently based in Berlin. He has exhibited extensively within Australia and internationally including most recently in 2011 at 3+1 Arte Contemporânea, Lisbon; Momentum Worldwide, Berlin and the Art Gallery of New South Wales, Sydney.
Kim Westerstöm (Sweden, 1979) will be working directly with the architecture of REH-Kunst to create a new site-specific piece for Out of the black. Using collected personal objects, he marries the deeply personal with the conceptual by investigating memory, time and our connection to our surroundings. Westerstöm works with time based media, installation, photography and sound. He is a recent resident at GlogauAIR, Berlin (2011) and has exhibited in solo and group exhibitions throughout Europe.
Hailing from Sydney, Australia, Lauren Reid is an independent curator currently based in Berlin. She has gained experience working on diverse projects within Australia and internationally including a travelling exhibition inside a truck in Melbourne (Each atom of that stone, Mel O'Callaghan, 2010) and a pop-up Gallery in Hong Kong (The Evo Project, Ben Quilty, 2011). She programmed the Window space for 2011 at Grantpirrie Gallery, Sydney, one of Australia's preeminent commercial spaces. More recently, following a residency at Node Centre for Curatorial Studies, she curated Conversations with shadows at the Grimmuseum.