15.5.2013 – 15.6.2013
2 ACTS – eine Ausstellung in zwei Teilen, mit Performance basierenden Arbeiten von
1. Katarina Šević, Tehnica Schweiz (Gergely László & Péter Rákosi)
2. Hajnal Németh
REH Kunst freut sich, die von der ungarischen Künstlerin Hajnal Németh konzipierte, zweiteilige Ausstellung 2 ACTS zu präsentieren.
Die zwei aufeinanderfolgenden Ausstellungen sind sowohl in ihrer Form als auch in ihrem Inhalt eng miteinander verbunden, in der Tat wie eine Art erster und zweiter Akt. Beide Ausstellungen beginnen mit einer Performance am Eröffnungsabend, welche anschließend durch eine Installation der Performanceelemente – Requisite, Videodokumentation u.a. – für die Dauer der Ausstellung für den Betrachter im Raum festgehalten wird. Thematisch setzen sich die Künstler mit der Bedeutung, auch der Mehrdeutigkeit, von Geschichte und historischer Dokumentation auseinander. Die Zeit ist präsent in beide Arbeiten – in gefundenen Korrespondenzen, alten Pressedokumenten oder ähnliche Hinweise auf Vergangenes. In den Performances werden diese Spuren der Vergangenheit künstlerisch transformiert und re-interpretiert.
.
15.5.2013 – 15.6.2013
2 ACTS – An exhibition in two parts, presenting performance-based works
1. Katarina Šević, Tehnica Schweiz (Gergely László & Péter Rákosi)
2. Hajnal Németh
REH Kunst is pleased to present 2 ACTS, a performance-based exhibition by the Hungarian artist Hajnal Németh.
The two consecutive exhibitions are related in terms of form and content that constitute a first and a second act in a way. Both exhibitions start off with a performance on the opening night, which will be followed up by an installation of the left performance pieces – prop, video documentation, etc. Thematically both artists deal with the meaning and ambiguity of history and its documentation in their art practices. Time is always present in their works – in found correspondences, old press documents or similar references to the past. The performances at REH Kunst are going to transform and re-interpret these traces of the past.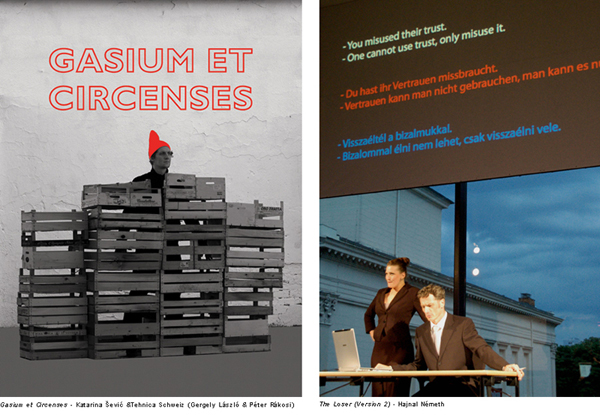 05.6.2013 – 15.6.2013
The Loser (Version 2)
Hajnal Németh
In einer opernhaften Vokalinszenierung über Bekenntnisse, tauschen sich ein Politiker und ein Banker in einem faustischen Dialog mit dem eigenen Gewissen über ihre Sucht nach Macht, ihren anfänglichen Enthusiasmus, ihren Glauben und dessen Verlust und die Frage nach Verantwortung aus. Die REH Kunst wird zu  einer abstrakt-minimalistischen Bühne, die das Gespräch zwischen den Machtmenschen und ihrem Gewissen umrahmt. Wie häufig in den Werken von Hajnal Németh vorzufinden, bewegt sich die Inszenierung auf der Grenze zwischen verschiedene Genres. Die Sänger sind wie Skulpturen auf der Bühne fixiert – fast schon tableaux vivants – welche den Kreuzungspunkt zwischen Musik und Bildender Kunst verdeutlichen.
Der Austausch zwischen Banker und Politiker wird von einem Chor begleitet, die wechselnd Bürger und Revolutionäre verkörpern – changierend zwischen Bequemlichkeit und Aufbruch, Vertrauen und Bestürzung; Kämpfe und Erfahrungen der Protagonisten sind zwar verschieden, berühren trotzdem dieselben Problemstellungen. Im Fokus der Inszenierung stehen die Figur des Verlierers und das Thema des Verlierens. Welche Konsequenzen haben die Fehler des Einzelnen und des Kollektivs? Wie reagieren wir auf den Verlust von Macht, Geld oder Moral? Die Selbsttäuschungen der Machtmenschen, die Kontraste zwischen ihrem Konzept des individuellen und des gesellschaftlichen Verantwortungsbewusstseins werden offengelegt und hinterfragt. Durch die opernhafte Inszenierung wird die Dauerhaftigkeit dieser Themen auch unabhängig von der Aktualität der Finanz- und Eurokrise unterstrichen.
Die Texte von Hajnal Németh werden von Tobias Müller-Kopp, Kristin Schulze und dem Jazz-Chor Berlin Vokal unter der Leitung von Michael Betzner Brandt vorgetragen. Alle gesungenen Texte sind auf Englisch, und werden auf Deutsch und Englisch an eine Leinwand projiziert. Bereits 2012 wurde eine erste Version dieser Performance auf der Bühne des Balassi Instituts vorgetragen, durch dessen große Fensterfront das Panorama Berlins zum Hintergrund der Performance wurde. In dieser zweiten Version ist die Performance den Gegebenheiten der RaumErweiterungsHalle angepasst. Durch die Holzverkleidung und ihrer fünfeckigen Form besitzt die Halle eine besondere Akustik. Das Bühnenbild wird abstrakter – mit der Wirkung von Licht und Schatten werden die Enge und Monotonie des Raums unterstrichen.
Hajnal Németh (*1972, Szony Ungarn) studierte an der Universität der Künste in Budapest. Sie hat an zahlreichen Solo- und Gruppenausstellungen in renommierten Kunstinstitutionen in Europa, Amerika und Asien teilgenommen, u.a. MUMOK, Wien; Martin-Gropius-Bau, Berlin; The Kitchen, New York; Renaissance Society, Chicago; Tate Modern, London; TENT, Rotterdam; Museum Kunst Palast, Düsseldorf; Kunsthalle, Budapest; Zamek Ujazdowski, Warszawa; Comunidad de Madrid; Moderna Museet, Stockholm; Palais de Tokyo, Paris. 2011 hat sie Ungarn bei der Biennale in Venedig vertreten.
Mit Dank an Fufoo Film GmbH, Invaliden1 Galerie und Balassi Institut – CHB.
.
05.6.2013 – 15.6.2013
The Loser (Version 2)
Hajnal Németh
In an opera-like vocal enactment of confessions, a politician and a banker are engaged in a Faustian dialogue with their own conscience, discussing their fascination of power, their initial enthusiasm, their beliefs and the loss of it, and the question of responsibility.
The whole room at REH Kunst becomes an abstract-minimalistic stage, which frames the talk between the power persons and their consciences. Characteristic for Hajnal Németh's practice, this piece also moves on the border between different genres. The singers are placed like sculptures on the stage – as tableaux vivants – underlining the crossover between music and visual arts. The exchange between the banker and the politician is accompanied by a choir, which alternately embody citizens or revolutionaries – rotating between comfort and consternation, trust and distrust.
The struggles and experiences of the protagonists are different but address the same problems nonetheless. In focus are the figure of the loser and the subject of losing. What are the consequences of personal failures, or of collective failures? How do we react to the loss of power, money or morale? On the stage, self-delusion and the contrasts between concepts of individual and societal sense of responsibility are disclosed. Through the opera-like staging, the permanence of these themes is underlined – regardless of the currentness of the financial- and euro-crisis.
Hajnal Németh's texts are recited by Tobias Müller-Kopp, Kristin Schulze and the Jazz-Choir Berlin Vokal under the artistic direction of Michael Betzner Brandt. All texts are in English and will be projected as surtitles in German and English. In 2012, the first version of The Loser was performed at the Balassi Institut, with the large window panorama of Berlin as backdrop to the performance. In this second version at REH Kunst, the performance has been altered to fit the special circumstances of the space-extending building (REH – RaumErweiterungsHalle). The wood paneling and the pentagonal form of the construction give the space a unique acoustic. The stage set will be more abstract, using light and shadow to underscore the narrowness and monotony of the room.
Hajnal Németh (*1972, Szony, Hungary) lives and works in Berlin. She studied at the Hungarian Academy of Fine Arts in Budapest. The artist participated in numerous solo and group exhibitions at prestigious art institutions in Europe, America and Asia, including MUMOK, Vienna; Martin-Gropius-Bau, Berlin; The Kitchen, New York; Renaissance Society, Chicago; Tate Modern, London; Art Museum, Singapore; Ludwig-Museum, Budapest; TENT, Rotterdam; Museum Kunst Palast, Düsseldorf; Kunsthalle, Budapest; Zamek Ujazdowski, Warsaw; Comunidad de Madrid; 2nd Berlin Biennale, KW Berlin; Casino Luxembourg; Moderna Museet, Stockholm; Musée d'Art moderne de Saint-Etienne; Picasso Museum, Barcelona; Palais de Tokyo, Paris. Hajnal Németh represented Hungary at the Venice Biennale 2011.
With a special thanks to Invaliden1 Galerie, Balassi Institut – CHB und Fufoo Film GmbH.